PLANNING FOR YOUR FUTURE SHOULD BE LIKE STAYING AT A LUXURY RESORT
#WhiteGloveService
Traditionally, the term concierge, originated in France and meant
'keeper of the keys'
. During the Middle Ages, a concierge did just that. When castles across Europe hosted visiting nobility, the concierge kept the keys to the castle rooms, and ensured that guests had everything they needed during their stay. By the 1800s, a number of buildings in Europe, from government offices to prisons, had their own concierge on staff.
In modern times, a concierge is now more of a general caretaker, where he/she solves problems for their clients.  A concierge facilitates access and assistance; access to whatever the customer wants and the assistance to get it seamlessly.
Johnson Morganti has embraced this concierge, aka White Glove Service, concept – of taking care of and solving problems for our clients.  Navigating the complexities of our financial world can be very daunting and time consuming.  We can assist you to make sure you have everything you need, whether that is planning for retirement, saving for college, or providing your employees with attractive benefits.  #FinancialConcierge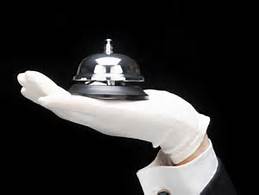 What is #White Glove Service?
1st Step of Service
We embrace each client's unique situation, without judgement, and always extend a warm welcome.
2nd Step of Service
We anticipate and fulfill our clients wants and needs.
3rd Step of Service
We create a lifetime of warm & sincere relationships with our clients – The Johnson Morganti Family.
Save
Save
Save
Save
Save
Save
Save